S600
Classification:
Order number:
depends on type
---
Shortdescription:
High performance servo drive
---
Product types:
Drives, Drives – Servo Drive
---
Technology & Profiles:
PROFIBUS
---
Company:

Kollmorgen Europe GmbH
Illustration: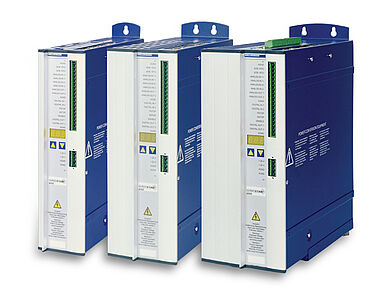 Product description:
Fully digital servo amplifier for controlling synchronous servo motors (torque range 0,3 - 124 Nm) with resolver feedback and sine commutation. You can use setpoint values for speed or current controlling or the integrated position controller for positioning. A direct motion task, 120 fixed (EEProm) and 16 volatile (RAM) motion tasks can be defined and executed in positioning mode. Positioning profiles can be build by linking the motion tasks.
Via PROFIBUS DP according to EN 50170 it is possible to write respectively read the data for motion tasks and servo parameters as well as actual values, control and status register. The insertion of the servo in the PROFIBUS is made by GSD-Files. A function library is available for some PLC-systems to support customers. All servo functions can be programmed with this library.
Main technical data:
Rated line voltage: 3x208V to 3x 480V
Rated output current: 1,5A; 3A; 6A; 10A; 14A; 20A; 40A; 70A
Certifications: CE, UL, cUL