JXCP1
Classification:
Product types:
Drives, Drives – Stepper
---
Technology & Profiles:
PROFINET
---
Illustration: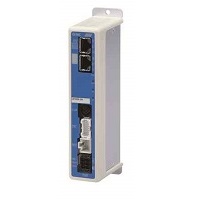 Product description:
●PROFINET compatible
This device can be directly connected to a PROFINET fieldbus network. It will then be possible to establish communication with a PROFINET Master (PLC).
●Actuator control
Positioning operation and operation at a specific speed and force for the actuator are possible by controlling the Step motor (servo 24VDC).
●Specified force operation
Control the pushing force or the pressing force of the actuator.
●Separated power supply
Power supply input is separated into the motor power supply and control power supply.
●Return to origin
Returning to origin is possible by a signal from PROFINET.
●Alarm detection function
Abnormal conditions are self-detected. Alarms are output by PROFINET communication and serial communication.
Alarm history can be stored in the memory in the controller.
●Positioning / pushing operation is available with step data and numerical operation mode
It is possible to operate the actuator by using the saved step data and by numeric data operation instruction by using PROFINET communication.
The actuator operates in accordance with the step data operating pattern of the specified step data.
In the numerical operation mode, the operation is executed by specifying the relevant numeric data.
●Area output
The AREA output bit will be activated if the actuator position is within the range specified by \"Area 1\" and \"Area 2\" in the step data.
●Data input method
It is possible to perform status monitoring, reset alarms and set Step data via PROFINET communication.