HIPERDRIVE family
Classification:
Product name:
HIPERDRIVE family
---
Shortdescription:
positioning systems
---
Product types:
Drives, Encoder
---
Technology & Profiles:
PROFIBUS, PROFINET
---
Company:

halstrup-walcher GmbH
Illustration: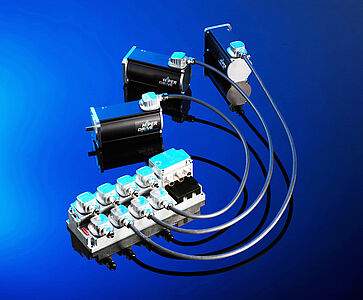 Product description:
HIPERDRIVE positioning systems from halstrup-walcher
Positioning systems from halstrup-walcher are intelligent and compact complete solutions for positioning auxiliary and positioning axes. Each solution consists of a motor, gear, power amplifier, control electronics and absolute measuring system. The integrated electronic control feature frees up capacity in the machine's central control unit. No external power elements, proximity and limit switches are required.
The products in the HIPERDRIVE range can be either wired directly or connected using a HIPERDRIVE hub. This enables you to select the optimum solution for your machinery concept. With the HIPERDRIVE hub, the bus communication is implemented from the control to the hub while the hub itself communicates with a number of positioning drives via RS 485. The same cable provides the power supply to the positioning system.
The HIPERDRIVE hub can control up to eight drives and also has power fuses, which relieves the load on the control cabinet. If only the bus communication has to be changed from one version of a machine to another, the machine tool manufacturer simply has to switch to a hub with the appropriate bus – this minimises time consuming alterations and the need to maintain stocks of different versions of the system.
The HIPERDRIVE HDA 70 positioning drive allows you to implement positioning processes efficiently, at low cost and with high precision. The HIPERDRIVE HDA 70 has IP protection class 65 and an extremely durable EC motor with high torque and very high self-holding torque. In addition, jog keys directly on the device simplify the start-up procedure.
The compact PSE 441 positioning system also has integrated jog keys that provide an option for manual adjustment even without the control unit. Moreover, the second connection allows you to operate the positioning systems with the control unit as a master in daisy-chain mode and thus reduce wiring complexity.