PROFIenergy
PROFIenergy live in application_EN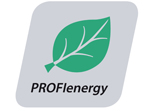 Automation users worldwide are driven to minimize energy consumption, to cut costs and comply with increasingly stringent 'green' obligations. Methods range from switching off equipment manually to installing semi-automated shut-down systems. These are crude, expensive or hard to manage.

What is needed is a standardized way to manage energy consuming devices over production networks, eliminating the need for external systems and delivering a solution that can be configured intelligently using existing automation equipment.

The PROFIenergy Profile enables control devices (e.g. PLCs) to send commands to Energy Consuming Units (ECU), to signal pauses such as lunch breaks, holidays, random line stoppages or even peak load conditions. On receipt of the PROFIenergy commands, software 'agents' in the ECU firmware initiate pre-defined 'sleep' modes for the duration of the pause.