Project

Oleo Fats, the number one supplier of specialty fats and oils to the Philippines' food industry has an annual growth rate around 10 percent. Production is a continuous refining of crude coconut oil and other vegetable oils, involving steps such as degumming, neutralization, bleaching, and deodorization. Straight oil can then be sold as a frying product, or undergo further processing such as blending or hydrogenating to realize other products such as ice cream and soft candy, hamburger buns and other baked products.
Some times ago the company took a serious look at automation as a means of overcoming issues related to their manual operations, notably data analysis, alarm responses and diagnostics. There was also a growing need to connect production to the company's information system.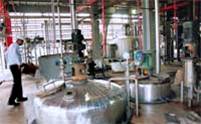 Solution

The first automation phase saw refining plants PRP 3 and PRP 5 converted. A SCADA plus PLC system now uses AS-i bus for field level connections with a proxy device to PROFINET, on which the PLCs and Operator Stations are connected.

A second automation phase, involving refining plants PRP 1 and PRP 6, uses PROFIBUS PA to network the process instruments, while keeping AS-i bus for motors, on/off valves and level switches. A DP/PA coupler is used for interfacing the PROFIBUS PA network to a backbone PROFINET network via Proxy modules.

This use of PROFIBUS PA for mass flowmeters, radar level transmitters, pressure transmitters, and modulating valves makes this site one of the most significant PROFIBUS implementations in Southeast Asia. Oleo Fats say they are now able to troubleshoot operations just by looking at the Operator screen. There's no need to climb on top of a tank or go around collecting lots of data, potentially wasting tons of oil while diagnosing and rectifying problems.

"Having that information right before you has really been the number one benefit," they say. Automating the plant has also enabled a much smoother and predictable production output, with quality and consistency gains.

Conclusion


An investment of almost 12 million pesos was recovered within just nine months through greater product consistency and less downtime: Manual control systems at a Southeast Asia fats and oil producer are being re-vamped with automation systems based on PROFIBUS and PROFINET, leading to ROIs measured in months.
The company is now starting to think of implementing a manufacturing execution system.