Project


One of the attractions in Germany's largest amusement park, Europa-Park, in Rust outside of Freiburg is a Flying machine built according to plans devised by Leonardo da Vinci centuries ago! To provide the required safety to the passengers of this "Volo da Vinci" during their rail-guided sightseeing flight, the latest Industrial automation technology with wireless and fail-safe IWLAN/Profinet and PROFIsafe communication has been implemented. The gondolas are designed in the form of the aerial screw flying machine and start their rail-guided, 300 meter long "sightseeing flight" at an altitude of 7 meters over the park. Because there were no motors, passengers have to use their legs to help propel the flying machine; those who pedal faster will travel at higher speeds. The speed is continuously increased or reduced to stay in a range from 1.2 m/s to 1.8 m/s. The issue of safety comes up here: How can colli-sions and damage or injury can be prevented under all conceivable scenarios?


Solution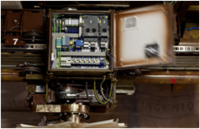 The project was realized by ETF Ride Systems of Nederweert, Netherlands. The flight path is almost completely automated with Siemens technology; the automation and safety concept was developed in cooperation with the operator, the manufacturer, and the German Tech-nical Inspectorate, TÜV. The main controller is a Profinet-capable, fail-safe Simatic S7 300F PLC, located in the central control room. It communicates via an IWLAN in wireless and fail-safe mode with ET 200S controllers and drives installed on the gondolas. The position of the gondolas is detected by code readers along the route and transmitted to the central safety controller via Profinet and IWLAN. This safety controller checks the values for plausibility, monitors the specified minimum clearances and initiates the prescribed safety mechanisms via Profinet and Profisafe profiles, if necessary.
Please click here to read more details. Or watch a video about this project - click here.


Conclusion


"The operation of the new and IWLAN-based controller system has been better and more stable than we had anticipated for an initial application", says Markus Spoth, the head of electrical engineering of the Europa-Park. If a failure should ever occur, however, the man-aged switch permits fast access and convenient troubleshooting. The Profinet device is inte-grated in the controller network and has its own IP address. This means that remote access and web-based management, for example via VPN tunnel, are possible so that any potential problem can be quickly remedied.
Leonardo da Vinci would certainly be very impressed by this solution!