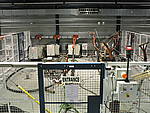 Project
The Arnheim-based Dutch company KEMA is a specialist for the functional and safety testing of high voltage electro-technical devices. They recently opened a new test lab using a system designed by Alewijnse Industrie. Previously, installing and disassembling individual measuring stations was a time-consuming chore. The new solution had to add a high degree of flexibility so Alewijnse developed a modular system supporting 16 different testing stations each controlled by its own PLC.

Solution
PROFINET is used for centralized control and data storage, while enabling decentralized execution of tests at the individual measuring stations and ensuring overall system safety. Protective cages including doors and door switches are integrated into the safety network and connected to the PROFINET Remote I/O stations from Phoenix Contact using plug connectors which allow the entire measuring station to communicate with the SCADA system and the central controller. One advantage of PROFINET is that the PROFINET controller immediately recognizes any component that is connected. Each component is assigned a unique ID to ensure that only the part of the testing program relevant for that device is executed. This allows KEMA to flexibly deploy the testing devices at different measuring stations in a fraction of the time. Also, the controller only needs to be programmed a single time since the program can be copied to the 15 other PLCs. Another benefit is ease of cabling: KEMA operates a star-shaped fiber network for electromagnetic screening reasons. The individual stations are numbered using standard techniques such as IP address assignment.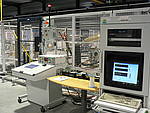 Conclusion
Installing PROFINET allows a Test Lab to execute decentralized tests combined with centralized control and data storage. With the PROFINET communication platform, the test lab was able to get much higher flexibility and to keep up with the rising number of orders.