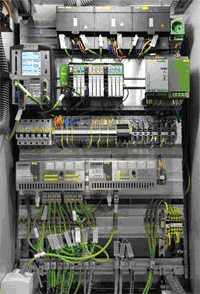 Project

While the Audi A3, A4 and A5 are built in Ingolstadt (Germany), the new Audi A1 is built at Brussels (Belgium). The Brussels plant is modelled on Ingolstadt, but Audi wanted to optimize this plant down to the tiniest details in order to have a technological lead over most other car manufacturers as a result.


Solution

Efficiency, cost-effectiveness, modular design and standardization are key words in Audi's production systems. All plants have to operate as far as possible in the same way and within plants all systems and workplaces have to be optimally geared to each other. Phoenix Contact made a major contribution - not only by supplying high-performance hardware but also powerful software and on-site training and support. All PLCs, visualization systems, and even the electrical cabinets, are as uniform as possible throughout which makes building, operation and maintenance a great deal easier. Phoenix Contact PLCs, already used at Ingolstadt, were implemented and PROFINET was chosen as the bus system for communication between the robot lines and also for the transport systems.
Phoenix Contact also supplied industrial PCs, control panels, switches, I/O modules, leads, safety relays and terminal clamps. The powerful RFC 470, with standard PROFINET, Interbus and Ethernet 'on board' was chosen for control. Every RFC is located in a cabinet with a main control panel. There are also a large number of ancillary control panels that are connected to the RFC via PROFINET/Ethernet. The many decentralized motor drives are also driven via Interbus and PROFINET from the RFC. There are 102 control panels and more than 300 ancillary control panels in the sheet-metal workshop alone.


Conclusion

Thanks to a large-scale PROFINET network together with many other measures in the conversion of the assembly lines and in particular the building of a new sheet-metal workshop with 450 robots, Audi succeeded in building the most modern Audi plant in Europe.