Project
The Wohlenberg Buchbindesysteme company is considered to be the inventor of adhesive book binding, also called "perfect binding". Modern perfect binding systems can bind up to around 7,000 books or brochures per hour. A book binding machine is a complex piece of equipment incorporating several separate units, and must be capable of binding reports, brochure and books in a wide range of different formats. Flexibility, short set-up times, ability to learn and store machine settings data for follow-up jobs, short cycle times and high reliability are key requirements.

Solution
At Wohlenberg Buchbindesysteme, interconnection and synchronization of the intelligent units takes place through PROFIBUS-FMS, whereas the rapid data exchange at the I/O level uses PROFIBUS-DP. Each book binding system consist of three interconnected units: the gathering machine, the adhesive binding machine and the three-knife trimmer. All three units need to work closely together, and they are connected to a central PC-based master controller through PROFIBUS-FMS.
In the adhesive binder, the completed piles are aligned, the spines are processed and binding takes place. The decentral KUAX 681M positioning drive controller is used to adjust the spacing and processing depths for the numerous model variants which are manufactured. The electronic circuits and motor form a compact unit which receive positioning commands via PROFIBUS from a KUAX 680I PLC. Job-related data are transferred from a database in the central PC-based master controller to a further KUAX 680I, which is also provided with an operator panel for machine control, text display and early warning system.
The three-knife trimmer, which is responsible for clamping, positioning, trimming, counting and cross-stacking of the books, is controlled by a decentral KUAX 681M positioning drive controller, which itself is controlled by another PLC (KUAX 624) through PROFIBUS-DP. PROFIBUS-FMS is used for the interface to the central PC-based master controller and for overall control of the gathering machine and adhesive binder.
The PC-based master controller is responsible for job management and diagnostics. It is also used to archive machine set-up data, which is read from each machine via PROFIBUS and stored in a database. This design concept minimizes set-up times for follow-up jobs.
Kuhnke GmbH, Malente participated in the design of the equipment.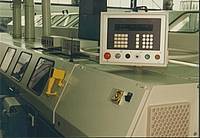 Conclusion
The use of PROFIBUS has allowed the machine manufacturer to use a flexible, modular design which ensures that customers receive exactly what they need. This approach also makes it easy to prepare options which are required later. The concept of modular design with associated decentral control elements allows the operator of the machine to maximize the advantages for the customers.