VPGate PROFIBUS to Serial
Classification:
Product name:
VPGate PROFIBUS to Serial
---
Shortdescription:
The VPGate PROFIBUS DP to serial is a gateway/converter between PROFIBUS DP and serial/MODBUS.
---
Product types:
Link/Coupler/Gateway/Proxy
---
Technology & Profiles:
PROFIBUS
---
Company:
PROCENTEC
Illustration: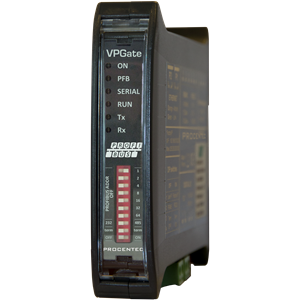 Product description:
About VPGate PROFIBUS DP to serial
The VPGate is built into the system and no knowledge of coding is needed for configuration. The PROFIBUS configuration tool is easy to use by personnel.
On the PROFIBUS side it is a DP slave, and on the serial/MODBUS side master or slave. The parameters and behavior are configured simply through the GSD file in the configuration tool of the PROFIBUS master.
The VPGate is an economically attractive solution to enable integration in an existing network.
Technical specifications
Main side
Connection: DB9 female connector
Protocols: PROFIBUS DP
Features: PROFIBUS DP (DP, V0, DP V1), sync, freeze, fail-safe
Operation mode: slave
Speed: 9.6 Kbps – 12 Mbps (auto detection)
Configuration method: GSD file via standardized configuration tool
Device access: Via PROFIBUS master
I/O Capabilities: 1 input isolated 0 – 24 V, 1 relay output
Serial side
Connection: Full Duplex RS232, Half Duplex RS-485 via PIN Connector
Protocols: MODBUS RTU or ASCII Server / Transparent
Operation mode: MODBUS master or slave / Transparent
Speed: 1.2, 2.4, 4.8, 9.6, 19.2, 38.4, 57.6, 115.2 Kpbs
Data Exchange: 7 or 8 bits
Termination: Active for RS-485
Function supported: MODBUS: 1, 2, 3, 4, 5, 6, 7, 15, 16, 23
Function supported: Transparent end-of-frame: end of frame character, known length, on timeout
Mechanical and Electrical Specifications
Power supply: 10..30 VDC @ 1.5 W
Others
Dimensions (LxWxH): 120 x 100 x 23 mm
Operating temperature: 0 .. 55 °C
Weight: 130 g
procentec.com/products/gateways/profibus-dp-to-serial-gateway/vpgate-profibus-to-serial/