Anybus X-gateway - PROFINET-IO (Slave) / CC-Link (Slave)
Classification:
Product name:
Anybus X-gateway - PROFINET-IO (Slave) / CC-Link (Slave)
---
Shortdescription:
Industrial Gateway with a PROFINET slave and an CC-Link slave interface
---
Product types:
Link/Coupler/Gateway/Proxy
---
Technology & Profiles:
PROFINET
---
Company:
HMS Industrial Networks
Illustration: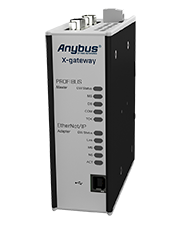 Product description:
The Anybus X-gateway inter-connects a PROFINET and CC-Link network and allows a seamless data flow between the two PLC systems.
Fast copying of I/O data:
The X-gateways primary function is the fast transfer of cyclic I/O data between the two networks. This offloads your PLC from working with additional calculations. The gateway acts as a Slave/Device on both networks. The data transmission is completely transparent with a maximum data capacity of 512 bytes in each direction.
Easy configuration:
The connection between the two networks is quickly set up. No programming skills are needed. Just connect, configure, and you're done!
Further information: