Anybus X-gateway - PROFINET-IO (Slave) / CANopen (Slave)
Classification:
Product name:
Anybus X-gateway - PROFINET-IO (Slave) / CANopen (Slave)
---
Shortdescription:
Industrial Gateway with a PROFINET slave and a CANopen slave interface
---
Product types:
Link/Coupler/Gateway/Proxy
---
Technology & Profiles:
PROFINET
---
Company:
HMS Industrial Networks
Illustration: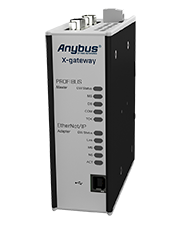 Product description:
The Anybus X-gateway inter-connects a PROFINET and CANopen network and allows a seamless data flow between the two PLC systems.
Fast copying of I/O data:
The X-gateways primary function is the fast transfer of cyclic I/O data between the two networks. This offloads your PLC from working with additional calculations. The gateway acts as an Slave on the CANopen network and as an Device on the PROFINET-IO network. The data transmission between the two networks is completely transparent with a maximum data capacity of 512 bytes in each direction.

Easy configuration:
The connection between the two networks is quickly set up. No programming skills are needed. Just connect, configure, and you're done!
Further information: