S300
Classification:
Shortdescription:
High performance servo drive
---
Product types:
Drives, Drives – Servo Drive
---
Technology & Profiles:
PROFIBUS
---
Company:

Kollmorgen Europe GmbH
Illustration: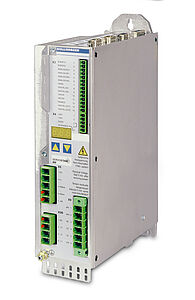 Product description:
S300 Series digital brushless servo drives are compact, easy-to-use and extremely versatile. The small footprint saves space in the cabinet, and with its wide-ranging connectivity options the S300 may be the only drive family you need. These drives work with our best-in-class rotary servomotors and linear positioners to provide a single, high-performance solution for a wide variety of applications.
Main technical data:
Rated line voltage: 3x110V to 230V, 3x208V to 480V
Rated output current: 3A; 6A; 10A
Certifications: CE, UL, cUL, EAC, RoHS, TÜV safety
Features:
Safe Torque Cff (STO), SIL2 function onboard
Macro programming language