NTT
Classification:
Product types:
Drives, Drives – Servo Drive
---
Technology & Profiles:
PROFINET
---
Company: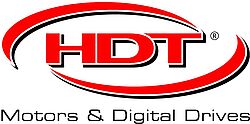 H.D.T. LOVATO Srl
Illustration:
Product description:
NTT240/460 digital servodrives with power supply of 230VAC single and 3-phases and 400V 3-phases suitable for AC motors up to 130 kW, both linear and rotary brushless motors, asincronous (FOC and V/Hz) and DC PM motors.
Equipped bith with a 16 Bit Analog reference, Pulse/Direction input and most powerful and advanced fieldbus communication protocols on the market including PROFINET RT and IRT AC4 (certified).
This servo inclued filter, braking stage, DC bus and encoder simulation. Double feedback, according to the type of motor selected are managed simple Hall sensors, incremental encoder (rotarylinear) with or without Hall sensors (5V LD push-pull, open collector) or absolute encoder SSI, BISS-B/C, Endat 2.2 serial protocol, SinCos at max 32Bit singleturn, 32Bit multiturn and resolver (16Bit).
The drive can be set to work in speed, torque mode, positioner (up to 64 concatenable positions), electronic gearbox, pressure loop control, electronic cam puls all the models allowed by the fieldbus chosen.
PROFINET IRT also allows to work with Technological objects. Set up from software Caliper, running an Microsoft Windows (R) OS, through USW2.0, it allows all calibration settings, parameters saving and alarm management but also the check of 4 channels simultaneously with a real-time scope sampling at 100.