EMCA
Classification:
Technology & Profiles:
PROFINET
---
Company:

FESTO SE & Co. KG
Illustration: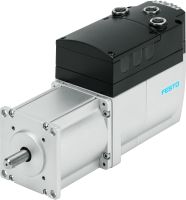 Product description:
Product description:
Brushless DC motor (EC motor) for positioning tasks with integrated power and control electronics. This prevents the need for long motor cables, improves the electromagnetic compatibility and reduces the installation time and space requirements.
64 freely programmable position sets (variables: position, speed or torque)
Interface Options available: DIO with Modbus TCP, CANopen, PROFINET, EtherNet/IP, EtherCAT
Safety function: "safe torque off" (STO)
Choice of degree of protection:
o Standard: IP54 housing and connection technology
o Optional: IP65 housing and connection technology for increased requirements
Sample applications:
Printing press and post-pressing machines
Packaging and labelling machines
Woodworking machines
Textile industry
Medical technology
Material transport
Conveying
Labelling
Electronics manufacturing
The integrated PROFINET device or the EtherNet/IP slave interface makes it easy to integrate the EMCA into existing host systems. Easy Integration and Interoperability in Industry 4.0 Host environments with cloud and digitization concepts is provided with OPC UA.
Technical key data EMCA:
EMCA-EC-67-S/M-1Tx-xx (120 W) / (150 W)
o Supply voltage: 24 V DC
o Nominal power: 120 W / 150 W
o Peak power: 158 W / 200 W
o Nominal rotary speed: 3100 rpm / 3150 rpm
o Max. rotary speed: 3500 rpm / 3300 rpm
o Nominal torque: 0.37 Nm / 0.45 Nm
o Maximum torque: 0.85 Nm / 0.91 Nm
o Absolute single-turn encoder (12 bit) – standard
o Absolute multi-turn functionality with backup for at least 7 days (without additional battery) – optional
Integrated holding brake – optional (the holding brake controller is also fully integrated)
External braking resistor, optional (the brake chopper is also fully integrated)