Dxx7xPxxxxxxxx
Classification:
Product name:
Dxx7xPxxxxxxxx
---
Shortdescription:
Stepper motor drives
---
Product types:
Drives, Drives – Stepper
---
Technology & Profiles:
PROFINET
---
Company:

LAM Technologies
Illustration: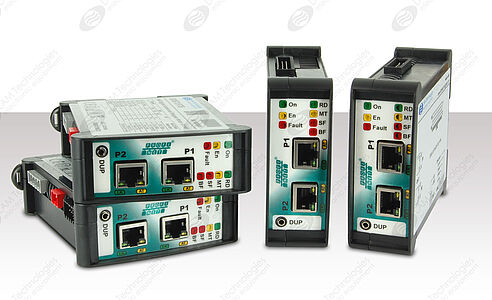 Product description:
LAM Technologies PROFINET stepper motor drives are a modern, compact and flexible solution for every new machine design that requires performance and cost saving.
Getting advantage from the isochronous real-time communication, the high-level controller can easily synchronize and interpolate many motors together to satisfy the requirements of the modern machine manufacturers.
Benefits:
· Isochronous real-time (IRT)
· Conformance Class C, Sec Level 1 Class III, MRP supported
· Operation modes: Velocity, Position, Torque, Interpolate Position
· Step-less vector control
· Incremental and absolute (SSI) encoder input
· Optional closed loop operation with torque control
· Digital and analog inputs and outputs
· AC and DC power supply
· Separate supply voltage for power and logic
· Compact dimension and easy installation on DIN rail
· Motors with torque up to 29Nm
· Free engineering tool Omni Automation IDE
· Device can be replaced without engineering tool
· Usually available from stock
Please request sample programs and libraries for TIA Portal.