CTEU-PN
Classification:
Product types:
Valves & Actuator
---
Technology & Profiles:
PROFINET
---
Company:

FESTO SE & Co. KG
Illustration: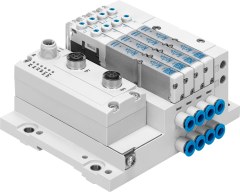 Product description:
Technical data – CTEU-PN
The bus node handles communication between the valve terminal and a higher-order PROFINET® master. The module has basic diagnostic functions. It has 6 integrated LEDs for on-site display. A maximum of 64 byte inputs and 64 byte outputs are transmitted in the cyclic process image.
Fieldbus connection
The bus connection is established via two M12 sockets, D-coded to IEC61076-2-101 with degree of protection IP65, IP67. Both connections are equivalent 100BaseTX Ethernet ports (as per IEEE 802.3). There is also an integrated switch function that enables free selection of the ports TP1/TP2 for PROFINET communication. The voltage for the CTEU-PN bus node is supplied via an M12 plug connector, 5-pin, A-coded.
I-port interface
The bus node supports two interfaces for connecting I-Port devices. When mounting the bus node on a valve terminal (direct integration) only one interface is used. When using the CTEU-PN bus node on the electrical connection block CAPC (installation system CTEL) both interfaces are available via the connecting plate.