AKD-P
Classification:
Shortdescription:
High performance servo drive
---
Product types:
Drives, Drives – Servo Drive
---
Technology & Profiles:
PROFINET
---
Company:

Kollmorgen Europe GmbH
Illustration: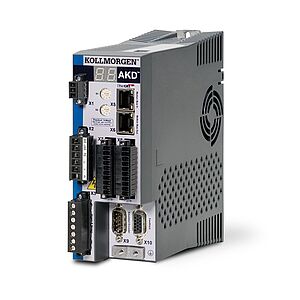 Product description:
Our AKD is a familiy of servo drives with a large range of functions, a large degree of versitility and maximum flexibility that can be integrated quickly and easily into nearly any application. Motor set-up mostly occurs through plug-and-play and offers a diverse selection of feedback. Online troubleshooting and data verification enable faster, bug-proof programming. The drives offer exceptional servo performance and stand out with their compact design.
Main technical data:
Rated line voltage: 1x120V to 3x240V (3A...12A), 3x240V (24A), 3x400V to 480V (3A...48A)
Rated output current: 3A; 6A; 12A; 24A; 48A
Certifications: CE, UL, cUL, EAC, RoHS
Features:
Safe torque off (STO) function onboard
Plug and play with Kollmorgen motors
All important feedback systems supported
Single Cable Concept with Smart Feedback Device (SFD) and Hiperface DSL
Intuitive setup tool
Local production in Europe, USA and Asia