AKD-M
Classification:
Shortdescription:
AKD PDMM Motion Controller, PLC and Servo Drive
---
Product types:
Drives, Drives – Servo Drive
---
Technology & Profiles:
PROFINET
---
Company:

Kollmorgen Europe GmbH
Illustration: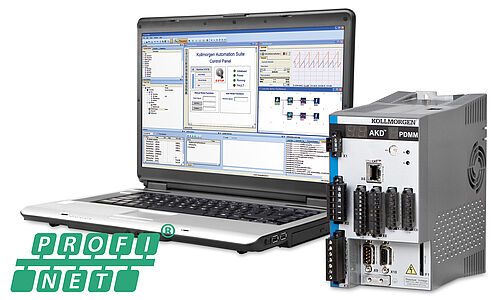 Product description:
Supplied in two performance categories, the AKD PDMM programmable servo drive controls 10 or more axes at 1-ms cycle time in the 800MHz version, 20 or more axes in the 1.2GHz version, and also offers PLC functionality without an additional motion controller. Hence the OEM saves space in the cabinet, reduces wiring complexity and gets lower machine costs. The Kollmorgen Automation Suite (KAS) development environment assists you with programming and reduces development time considerably.
Main technical data:
Rated line voltage: 1x120V...3x240V (3A...12A); 3x240...3x480V (3A...48A)
Rated output current: 3A; 6A; 12A; 24A; 48A
Certifications: CE, UL, cUL, EAC, RoHS
Features:
IEC 61131-3 programming interface with full support of the five programming languages
128kB non-volatile memory for storage of important machine and process data
SD card slot fort backup and restoring application software, firmware and control parameters
13 digital inputs
4 digital outputs
1 analog input
1 analog output
Integrated web server for maintenance work