PI International
As far as maintenance, ongoing development, and market penetration are concerned, open technologies need a company-independent institution that can serve as a working platform. As regards the PROFIBUS and PROFINET technologies, this was achieved by founding the PROFIBUS Nutzerorganisation e.V. (PNO) in 1989 as a non-profit interest group for manufacturers, users, and institutions. The PNO is a member of PI (PROFIBUS & PROFINET International), an umbrella group which was founded in 1995. PI now has 25 regional user organizations (RPA: Regional PI Associations) and approximately 1,400 members, meaning that it is represented on every continent and is the world's largest interest group for the industrial communications field.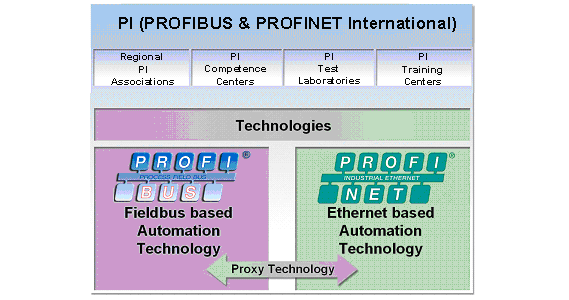 Responsibilities of PI
The key tasks performed by PI are:
Maintenance and further development of PROFIBUS and PROFINET
Promotion of the worldwide establishment of PROFIBUS and PROFINET
Protection of the investments of users and manufacturers through influence on standardization
Representation of the interests of members to standards bodies and unions
Worldwide technical support for companies through PI Competence Centers (PICC)
Quality control through a system for product certification at PI test laboratories (PITL) based on standard conformity tests
Establishment of a worldwide training standard through PI Training Centers (PITC)
Technological Development
PI has handed responsibility for technological development over to PNO Germany. The Advisory Board of PNO Germany oversees the development activities. Technological development takes place in the context of more than 50 working groups with input from more than 500 experts.
Technical Support
PI supports more than 35 accredited PICCs worldwide. These facilities provide users and manufacturers with all kinds of advice and support. As institutions of the PI, they are independent service providers and adhere to mutually agreed upon regulations. The PICCs are regularly checked for their suitability as part of an individually tailored accreditation process. Current addresses can be found on the PI website.
Certification
PI supports 8 accredited PITLs worldwide, which assist in the certification of products with a PROFIBUS/PROFINET interface. As institutions of PI, they are independent service providers and adhere to mutually agreed upon regulations. The testing services provided by the PITLs are regularly audited in accordance with a strict accreditation process to ensure that they meet the necessary quality requirements. Current addresses can be found on the PI website.
Training
The PI Training Centers have been set up with the specific aim of establishing a global training standard for engineers and installation technicians. The fact that the Training Centers and the experts that are based there have to be officially accredited means that quality is assured, not only with respect to the PROFIBUS and PROFINET training offered but also of the associated engineering and installation services. Current addresses can be found on the PI website.
Information platform - Internet
Also available on the PI website www.profibus.com is actual information about the organization of PI and the PROFIBUS and PROFINET technologies. An online-product guide, a glossary, divers web-based trainings are to be found there, as well as the download area with specifications, application profiles, installation guidelines, and other documents.