Energy Efficiency
PROFIenergy live in applivation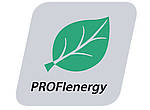 PROFIenergy is an innovative new way of optimizing energy efficiency over a PROFINET network. It uses the automation components themselves to facilitate 'smart' energy management strategies and reduce operating costs.
Energy consuming equipment is switched into 'sleep' mode by commands sent over the network from a control device such as a PLC. No external hard-wired systems or hardware are involved.
Energy usage can also be monitored, offering potential for peak load management.
Savings depend on the type of equipment involved and how PROFIenergy is employed. For high-energy devices the savings could be substantial. Robot cells, lasers and drives will be early beneficiaries.
However, even low energy devices such as Remote I/O may benefit, for example when large numbers are deployed.
NEXT