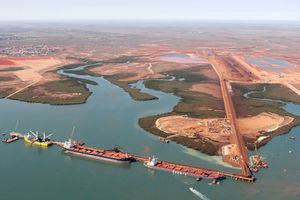 Project


Fortescue Metals Group (FMG) is the world's fourth largest Iron Ore exporter. Against the backdrop of an emerging minerals resources boom driven by the economic transformation of China and India, plus, restricted access to existing rail and port facilities, Fortescue was forced to build its own rail and port infrastructure to take advantage of Asia's growing demand for Iron Ore. FMG selected Anderson Point in Western Australia as the location for its new Herb Elliott Rail and Port shiploading facility due its close proximity to mining operations at Cloudbreak and Christmas Creek in Fortescue's Chichester Hub. The project should be implemented as fast as possible to take advantage of China´s growing need for iron ore.

Solution

Engineering firm Worley Parsons was assigned with the project and decided to use PROFIBUS as the preferred communications protocol throughout the entire port facility in conjunction with a small number of Devicenet networks which were later phased down.
Construction at the Herb Elliott Port commenced in November 2006, and first deliveries of iron ore from Cloudbreak mine were uploaded and stockpiled ready for export already in April 2008. The working name given to this FMG's initial rail and port construction project was T45, representing the expected tonnage of iron ore (up to 45 million tonnes per annum) Fortescue expected to export between 2007-2010.

The applications controlled by PROFIBUS networks in this initial T45 Project included an inbound train unloader, conveyor belts, stacker and reclaimer, a ship loader, belt weigher, metal magnets and a Stockpile Management System (SMS) to analyse the composition of the iron ore before loading onto the ships. In 2011, Fortescue sought to triple Herb Elliott's port loading capacity from 55 Mtpa to 155 Mtpa. This second phase of development at Herb Elliott was called the T155 Port Anderson Expansion Project 2011-2013.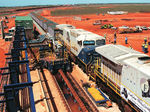 Conclusion

PROFIBUS Technology, particularly PROFIBUS DP was able to provide reliable and stable network communication in harsh operating conditions characterized by extreme heat and high noise levels. This helped very much to complete the processing facilities in record time to take advantage of China's growing need for iron ore.