Project
In response to market demand, the annual production capacity at the ArcelorMittal site in Fos-sur-Mer, France, is due to rise from 4.6 to 5.3 million tons of steel. One of the key projects designed to help meet this objective was the refurbishment of blast furnace no 1. The preservation of this colossal piece of production equipment notably called on new measuring instrumentation technologies and the standardized PROFIBUS field network was selected to replace a large proportion of the analog signals. The blast furnace is currently the first "digital blast furnace" in the world. The giant is over 80 meters tall with a capacity of 3 000 m3. The temperature inside the 11 meter diameter crucible is +2 000 °C. Controlling this process digitally means exposing the automation system and instrumentation to extreme conditions.


Solution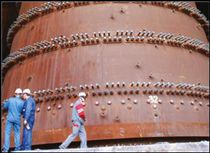 The success of the refurbishment of the blast furnace firstly depended on a very productive design phase. After that, we simply had to get well experienced companies in their respective fields on board - explained Philippe Divol, Project Managerat ArcelorMittal – and which are able to answer all our questions about the new configuration of the instrumentation in the fieldbus, added Alphonse Fabiani, Instrumentation Engineer at Arcelor Mittal. The overall supply of measuring instruments fulfilled all aspects of the prerequisites, but Arcelor Mittal also stood to benefit from the expertise and support provided by the experienced professionals in engineering for process automation (Endress+Hauser). The specialist technicians commissioned 1 100 sensors directly on the blast furnace and supervised 700 others in the peripheral workshops, such as the gas cleaning system and slag treatment, all connected by the digital network. More than 400 sensors on the blast furnace are connected via PROFIBUS. After 95 days of downtime, blast furnace no 1 was given a new lease of life.

Conclusion
The typical service life of the refractory lining in a blast furnace is 20 years, and over the next 20 years the Acelor blast furnace will be operating at full capacity. In fact, Alphonse Fabiani is hoping to draw on all the options made available by the new field devices connected in the PROFIBUS technology. For maximum efficiency of the production equipment, it will be possible to perform settings and diagnostics remotely.
We will have a predictive – rather than a curative – approach to maintenance. We are handing down future-oriented technology to generations of steelworkers to come.
"
Source: Endress+Hauser