Project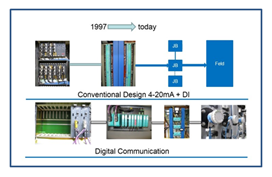 Solland Silicon in Meran (Italy) is a pioneer in using process fieldbus technologies and advantages. This chemical factory (it produces polycrystalline Silicon) belongs to the PUFIN Power group and started already back in 1996 to implement PROFIBUS in a pilot project. This resulted in remarkable cost savings compared to the conventional 4…20 mA technology of 30% in configuration, 70% in hardware and 40% in software. Because the pilot project was so successful, four distillation columns were upgraded from pneumatic and 4…20 mA technology to PROFIBUS just one year later. Since that time the company was and is convinced that PROFIBUS technology helps very much to generate significant competitive advantages and decided to continue this partnership in case of future solutions.

Solution
A new and modern, 250 million EURO worth plant expansion was made and put into service from 2008 to 2010. Based on the positive experiences regarding long-term stability and easy maintenance, the company again chose the field-proven PROFIBUS technology for this. The expansion encompassed 14 new plants where about 90% required an Ex-version Zone 1 or 2. SIL3-capable overall control systems were used for the plant control. The use of the FISCO concept made it much easier to prove explosion protection and also gave flexibility for plant expansions and changes. The controllers of the various packages (compressors, etc.) were connected redundantly to the overall control system with PROFIBUS DP.
Approximately 750 measuring devices in PROFIBUS PA and 60 PROFIBUS DP slaves have been in-stalled together with inverters and remote IOs and network components such as surge protectors, field barriers, segment couplers, etc. Here, Solland Silicon was able, thanks to the open PROFIBUS, to use the most suitable products from various manufacturers (ABB, Siemens, E+H, P+F, e. a.) with excellent interoperability. The overall control system software and other software tools use DTM technology, which facilitates configuration and expands the diagnostic capabilities conveniently from the control room. The monitoring of the signal quality (physical layer) of the PROFIBUS network permits a periodic, fast check of the health of the physical bus characteristics, which enables predictive maintenance.


Conclusion
After 20 years of experience with PROFIBUS in its South Tyrol factory, Solland Silicon has found that PROFIBUS DP and PA have proven to be very reliable with high plant availability and that its expectation regarding remarkable cost savings compared to 4-20 mA solution have been met for the new plants. And things continue further: Initial applications with PROFIsafe and PROFINET have been implemented and are already in active operation at the factory in Meran.