Project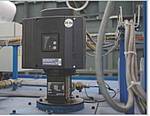 ŠKODA MACHINE TOOL a.s. in Plzen, Czech Republic, is the world's leading producer of heavy horizontal milling and boring machines and heavy horizontal lathes and a preferred supplier for leading companies in the field of power engineering.
One manufacturer of steam turbines has installed a new heavy horizontal machine (fig. 1) and there was a need for regulation of cutting fluid flow by the automatic tool change. The machine uses various types and sizes of tools, placed in the automatic tool changer, and every tool needs cooling liquid with different parameters. The designers of the machine were searching for a sophisticated solution of a control of quantity of delivered liquid driven directly from the machine control system and automatically loaded with specific information about the currently used tool.

Solution
Grundfos delivered a machine tool pump and a communication unit CIU 150 for Profibus DP for an efficient change of cooling liquid parameters (fig. 2). The CIM/CIU 150 is a standard interface for data transmission between a Profibus DP network and a Grundfos pump or controller. It makes data exchange easy between Grundfos pumping systems and a PLC or SCADA system. No custom programming is needed to integrate the interface in a Profibus network. System integration is very straight-forward with standard GSD files and support for the device profile "intelligent pumps" from Profibus & Profinet International.
The interface now ensures direct communication via Profibus between Sinumerik control system and the frequency controlled pump. The liquid's flow is now adjusted automatically at every change of working tool.

Conclusion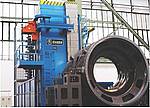 The whole system now works reliably, i.e. the pump's performance is always automatically adjusted to the need for the currently used tools and technologies.
SKODA stated: We had to look for a speed controlled pump and a communication system
which is able to communicate between that pump used on large horizontal milling machines and the Sinumerik control system. The Profibus based Grundfoss solution exactly meets these requirements.