Project
The Austrian company Schlotterer GmbH, Adnet, (near Salzburg) had to extend its factory premises with another building on a ground which was located above the actual plant area. In order to link both locations for fast and efficient transportation of personnel and materials, the company decided to build an automatic cable car (fig. 1) instead of building a road connection and using trucks and personnel cars.
The cable car system had to be designed, engineered and officially approved for automatic combined passenger and material transportation with a capacity of 2.5 t equivalent to 28 persons. Consequently, a high performance safety control system including conformance to SIL 3 was required.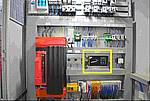 Solution
The control system (fig. 2), engineered by STB Steuerungs GmbH (Egg, Austria), is located in the upper station. It uses a safety industrial controller (Beckhoff) and PROFIBUS DP as fieldbus communication network. Operation of the system is very similar to a common building elevator.
The system uses a wireless communication link between the controller in the upper station and the antenna mounted on the mobile cabin (fig. 3). Highest availiability of the wireless link was obligatory because safety-relevant signals such as emergency stop are also transmitted via this link. A radio module of the DATAEAGLE series (Schildknecht AG) was used; the selected version is especially designed for fully tranparent wireless transmission of PROFIBUS DP communication data, including PROFIsafe protocol if required.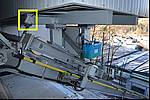 The modul offers different transmission technologies and complies with class 0 (the highest class, suitable for emergency applications) as specified by the ISA SP 100 committee. In the present application the modul uses high power (100 mW) "frequency hopping" bluetooth technology with 1.5 Mbit/sec, which is very suitable for mobile applications.


Conclusion
The cable car system as described was the very first one to get the official approval for combined material and personnel transportation in Austria. The system runs very reliably and proves the high performance and suitability of PROFIBUS for use in safety communication systems which include also wireless sections.