PROFIBUS DP ground cable UV FC
Classification:
Product name:
PROFIBUS DP ground cable UV FC
---
Shortdescription:
PROFIBUS DP underground and outside cable for stationary applications
---
Product types:
Cables/Connectors
---
Technology & Profiles:
PROFIBUS
---
Company:
PROCENTEC
Illustration: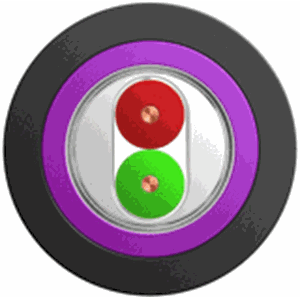 Product description:
This cable complies with the PROFIBUS DP cable specifications (200 m at 1,5 Mbps or 100 m at 12 Mbps). After removing the outer sheath, the structure of the cable also allows use of the Fast Connect (FC) stripping tool for fast stripping of the inner cable. Due to its double shielding and acceptable shield resistance it is suitable for installation in EMC demanding areas.
Technical specifications
Electrical characteristics
Impedance: 150 ± 15 Ohm
Loop resistance: < 110 Ohm/km
Shield resistance: < 9,5 Ohm/km
Capacitance: < 28,5 nF/km
Inductance: 1000 uH/km
Attenuation: 42 dB/km (16 MHz)
Mechanical characteristics
Construction: 1 x 2 x 0,64 mm (22 AWG)
Wire type: Solid conductor
Cable thickness: 10,8 mm
Weight: 117 kg/km
Sheath and wire colors: Black and red/green
Fast Connect (FC): Yes
Minimum bending diameter: Repeated 15X ø, Single 7,5X ø
Environment and approvals
Operating temperature: -40 to +60 °C
Jacket/sheath: PVC and PE
UL listing: No
Halogen free: No
Sunlight resistance: Yes
Resistant to water/steam: Yes
Resistance to oil/grease: Limited
Flame retardant: IEC 60332-3-24 (Cat. C) and UL 1685 (CSA FT 4)
procentec.com/products/cable-connectors/profibus-dp-cable/leoni-cable/profibus-dp-groundburial-cable-uv-fc/