PROFIBUS DP cable for rodent/outdoor/burial UV
Classification:
Product name:
PROFIBUS DP cable for rodent/outdoor/burial UV
---
Product types:
Cables/Connectors
---
Technology & Profiles:
PROFIBUS
---
Company:
PROCENTEC
Illustration: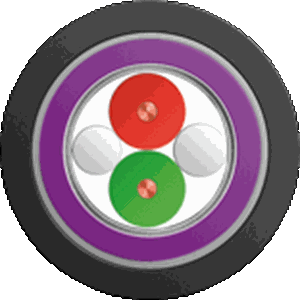 Product description:
PROFIBUS DP cable that has an extra layer for protection against rodent attack. The outer sheath is unaffected by atmospheric UV-radiation at above-ground installation and is suitable for direct burial. This cable complies with the PROFIBUS DP cable specifications (200 m at 1,5 Mbps or 100 m at 12 Mbps).
Technical specifications
Electrical characteristics
Impedance: 150 ± 15 Ohm
Loop resistance: < 110 Ohm/km
Shield resistance: ??
Capacitance: < 28,5 nF/km
Inductance: ~ 750 uH/km
Attenuation: 42 dB/km (16 MHz)
Mechanical characteristics
Construction: 1 x 2 x 0,64 mm (22 AWG)
Wire type: Solid conductor with fillers
Cable thickness: 10,8 mm
Weight: 129 kg/km
Sheath and wire colors: Black and red/green
Fast Connect (FC): ??
Environment and approvals
Operating temperature: -40 to +70 °C
Jacket/sheath: PVC and PE
UL listing: No
Halogen free: No
Sunlight resistance: Yes
Resistance to oil/grease: Limited
Flame retardant: No
procentec.com/products/cable-connectors/profibus-dp-cable/leoni-cable/profibus-dp-cable-for-rodentoutdoorburial-uv/