IE-CDR-V14MRJ/VAPM-C
Classification:
Product name:
IE-CDR-V14MRJ/VAPM-C
---
Product types:
Hub/Switch/Router/Repeater
---
Technology & Profiles:
PROFINET
---
Company:
Weidmüller Interface GmbH & Co. KG
Illustration: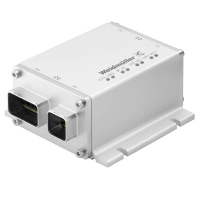 Product description:
PROFINET IRT COPPER REPEATER


With the new copper repeater, the FreeCon Active product family from Weidmüller (POF repeater, POF / CU media converter) receives another member. Like the existing products, the copper repeater is a Profinet participant, the housing and mounting are identical, which means that existing drilling patterns can continue to be used. With the new device, Ethernet segments of max. 100m can be extended about another 100m to max. 200m . The repeater is certified, the certificate is available for download in the online catalog.